Product features
Product features:
The largest range of colors – more than 100 decors
Perfect suited to chipboard furniture
Available in 2 sizes in standard offer
The thinnest screw caps available on the market
The photographs standard:
Sheets 9/16″ [14mm] and 3/4″ [20mm] + other sizes – while at the sheets on each sheet
Package – confection and collective – while sheets in packaging, packaging capacity
EAN codes
Custom = customized solutions
We produce any size and shape to the needs of the customer
Ability to perform any coloring decor under unusual order / request
Any quantity screw caps on one sheet
Screw cover caps white
Among the most popular products in our range are screw cover caps in white. In modern furniture with decorative finishing any shortcomings such as holes are unacceptable. The aesthetics of the décor will be restored by special stickers in a variety of shapes and sizes. Peel and stick screw covers of our manufacturing are top-shelf products that are suitable for wood, chipboard and laminates. The faults in light colour furniture can be especially visible, even on the inside of the cabinet doors or drawers. Perfect matching is the key to achieve highly aesthetic effects. Standard white caps will successfully mask any screw holes, joints, and other minor damages in the surfaces.
Due to the high demand on the white screw cover stickers we recommend wholesale orders in large amounts. This colour must be available in every well-equipped store. Folmag is a producer of self-adhesive peel and stick cover caps in a variety of materials to match any furniture board both in texture and colour. No matter the shades of white you are looking for – we have products of great diversity from Alpine White Cold to Platinum White and more!
Screw cover caps black
Eco-friendly screw cover caps are also available in black as a standard colour. They are perfect for furniture in both private houses and public buildings. Thanks to the resistant material the stickers we manufacture are suitable for any environment and conditions, such as UV exposure, extreme temperatures or high humidity. By using Folmag's caps to cover screw holes you can make even old cabinets and racks look brand new again. We care about the aesthetics of our products and the decorative effect they help to achieve. Therefore, besides the plastic and paper we offer wood stickers as well which match the furniture made of oak, pine or walnut tree.
Among the screw cover caps in black there is a range of textures that can be easily matched to the surface. High gloss or matt structure – we have many variations of simple screw hole stickers. Well-designed caps blend with the furniture. This effect can be achieved by choosing an identical colour and appropriate thickness of the product. We offer the thinnest sheets of stickers available on the market. The instalment is easy and effortless regardless of whether the screw cover cap is put on temporarily or permanently.





Rating value:
4.64
(92.8%)
Base on:
66
score
Display system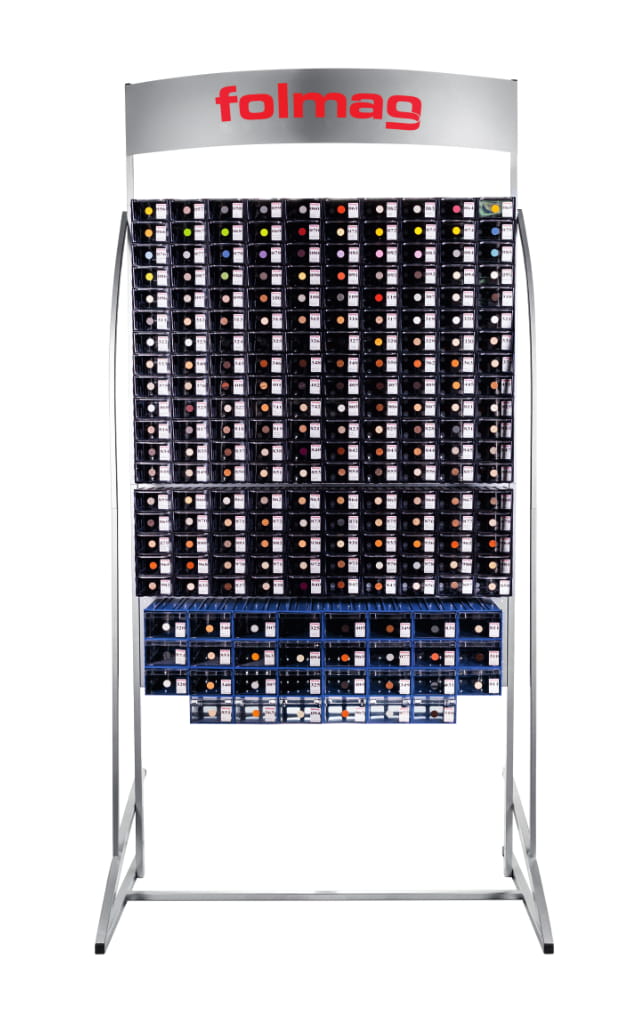 To meet the expectations, we offer Commercial systems for our products.
Our exposition systems for use:
Aesthetic and full presentation of the product, resulting in increased sales
Quick access to the seller which ensures faster time customer service / improve customer service
Easy orientation condition of the screw caps through the transparent boxes:
do not be surprised of the missing of goods
Keeping order:
– everything in place
– the end of the mess
Expansion / extension of the product range with new products
Saving space sales
Plastic caps to cover screw heads
For furniture made of chipboard or MDF plastic screw cover caps will be the best option. Today these are the most common materials used in the construction and interior finishing. Our self-adhesive stickers effectively cover holes as well as bolts of any diameter, while maintaining the decorative character of the furniture. Items of our manufacturing are universal – we produce Phillips screw cover caps, which is one of the most popular screws.
To prevent making the covering of the hole obvious, the stickers need to be unnoticeable. Thanks to the thin sheets of our decorative screw cover caps, they can be visible only if the customer wants it and decides to choose a contrasting colour. Our products are durable, and their properties do not change over time. While the acrylic glue, which is used as an adhesive, is strong enough to last for years, it is also safe for furniture surfaces of any kind.
All types of furniture screw cover stickers are presented in our product catalogue.
To our distributors we offer exhibition systems with transparent boxes and functional racks for efficient displaying of the products. Clients can easily browse through the caps and compare them with each other. Attractive presentation guarantees better visibility and greater interest in Folmag's wood stickers used to cover screw holes.
Wood stickers to cover holes in wood
It is hard to cover a hole in a sleek furniture surface or poorly placed screw heads. A small flaw may spoil the decorative effect, and care and maintenance are more difficult too. Let's leave this problem behind. With wood screw caps and stickers old furnishings can regain pristine condition and a brand-new flat will finally have the finishing touch. There are many applications of our products – they can be used in drawers, bookcases, stairs, in home and garden, wherever there is a need to improve the look of the furniture. Stickers to cover screw heads are made of natural wood of different tree species such as:
acacia;
birch;
beech;
oak;
birch;
walnut;
pine;
elm;
palisander;
and more.
Alongside single colour adhesive stickers, as a producer, Folmag makes high-quality wood screw cover caps to match the diversity of furniture and items available on the market. The cuts are made from the finest materials which preserve their original properties and can be further processed by varnishing for example. Thanks to the visible grain structure stickers made to cover holes in wood easily fit the furniture or stairs. Although the standard caps are usually round, we can produce any shape and size our customers request.





Rating value:
4.64
(92.8%)
Base on:
66
score